Culinary Journeys On River Cruises in Europe
Rhine, Danube and Seine Rivers
Cruising on Europe's iconic rivers is a great way to discover and enjoy the continent's culture, history and picturesque landscapes. It is about experiencing life in the slow lane along with a  delightful culinary journey. The various cruises wind their way through vibrant cities, emerald green hills, sun drenched terraced vineyards, charming villages, fairy tale castles and tranquil meadows.
Unlike the huge ocean cruise liners, the river cruises are more personalized and intimate, with fewer guests aboard. At each port of call, there are options for excursions depending on interests and activity levels. From cultural discoveries to gastronomic experiences to adventure trails, one can choose from a lot of alternatives. 
Photo courtesy: Viking Cruises
With ever changing views right outside the window, a River Cruise is a leisurely and luxurious way of travelling. The ships have spacious suites or cabins, balconies or full length windows, sun decks or lounge seating and tasting menus at the Chef's table or casual dining. Some even have a pool, spa and a fitness area. The choices are numerous.
Cruise Itineraries for the major Rivers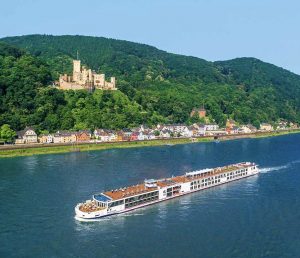 Flowing through 6 countries, the Rhine is a legendary river. It is one of the major European rivers starting in the Swiss Alps and draining into the North Sea through the Netherlands. Apart from its historical and cultural significance, the river has served as Europe's leading transport route. A journey on its waters reveals a rich landscape, historic cities and local culinary specialities.
Amsterdam to Basel: 8 days
4 Countries, 6 Ports of Call